HELP US CRAM THE VAN!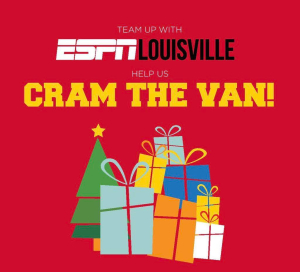 Today is the day.  Our Cram the Van big fundraising day with our friends at Phocus. Caffeinated sparkling water.
The money we raise today will go to benefit Wayside Christian Mission, Salvation Army, St Vincent DePaul, And St Joesphs Childrens Home.
We will give them all the money we raise today and let them spent it at Kohl's next Tuesday and Cram a Stergerg Truck full of toys and clothes.
We want to set the record…we think we can get to $100,000.
Phocus is going to stake us to the first 5,000.  We will have other matching opportunities
Here's how you can donate.   Our Venmo is Cram the Van.  Our Paypal is CramTheVan.  All one word. You may have to search the business tab. Search " Cram the Van 2022" on GoFundMe.
  Or come out in person to Kroger here in Stony Brook.
Every person who donates is in the drawing for a pair of Jack Harlow tickets we will draw out tomorrow.