Phil Baker
@ESPN680 | @Phil__Baker
PhilB@ESPNLouisville.com
Kentucky running back Jojo Kemp poked the bear, and his coach isn't happy about it.

Kemp, a DeLand, Fla., native, was asked about returning to his home state for Saturday's game in which the Wildcats (2-0) face the Gators (1-0) in the SEC opener for both schools.

[+] Enlarge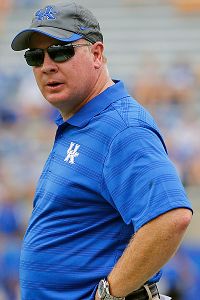 Mark Zerof/USA TODAY Sports"It's not something that I teach," Mark Stoops said of trash-talking ahead of games. "It's not how we talk."
"A couple of my [high school] teammates actually went to Florida, so I'm familiar with a lot of those guys," Kemp said after Tuesday's practice, according to the Louisville Courier-Journal. "It's going to be fun walking out with a victory and rubbing it in their faces."

Head coach Mark Stoops weighed in during his Wednesday teleconference.

"I was furious," he said. "I was outraged and I talked to him about it. But the thing is he was trying to make light of some friends that he has on [Florida's] program, but like I told him yesterday, 'You think they're going to hear all that? They're going to hear the last five seconds of what you said.'"

Stoops is well aware of the challenge facing Kentucky, which hasn't beaten Florida since 1986. The 27-game losing streak is the longest of its kind among active FBS rivalries.

"I know the great pride of the players in that locker room at Florida," Stoops said. "I've been all through Florida. I've been at Miami. I've been at South Florida. I've been at Florida State. I know personally quite a few of those players and the pride that they have.

"One thing, it's not very smart to try to challenge their pride before you play them. Believe me, I know them. So I don't think that was very smart. It's not something that I teach. It's not how we talk. And really if you listen to his whole conversation he was quite humble and really handled himself the right way until the end.

"But again, that's just not very smart on our part and we'll get that fixed."

Kemp's comments also drew a response on Wednesday from Florida senior linebacker Michael Taylor, who tweeted: "Heard u were talkin s---, but you're Kentucky's 3rd string back."

Kemp was the Wildcats' leading rusher last season with 482 yards and had 19 yards on three carries in a 24-7 home loss to Florida on Sept. 28, 2013.

It's likely the UK running back and UF linebacker will have a chance to settle their differences on the field. Saturday's game kicks off at 7:30 p.m. ET.

"At the end if we beat them," said Florida sophomore cornerback Vernon Hargreaves III, "then I guess it's a little something to rub back in his face."